How to choose your turkey
Learn how to choose a centrepiece that's fit for your festive feast with our expert buying guide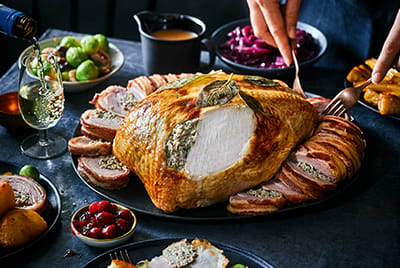 Pick your perfect turkey
Choosing your turkey needn't be daunting. First decide if you want a whole bird or easy-carve crown or joint, then select your chosen size.
Not sure where to start? This year, we've created The Perfect Turkey. Stock-basted turkey crown with pork, sage and onion stuffing and deboned, stuffed bacon-wrapped thighs. All the meat cooks at the same time, so it's tender, delicious, and totally stress-free.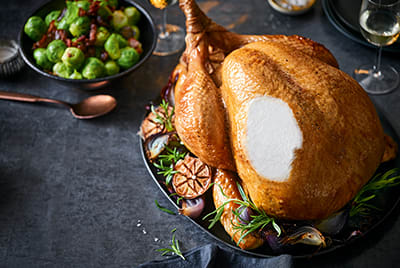 Whole turkeys
A traditional whole bird is a great choice if you like a mixture of juicy breast and rich dark meat. Our range offers a range of sizes to feed between six and 18 guests. There'll be plenty of leftovers, too, with bones ready to be simmered into stock for soup, and meat to be transformed into different dishes.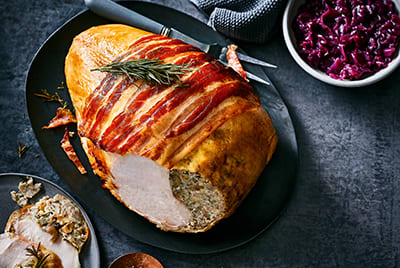 Crowns and joints
If you know your guests prefer white meat, opt for a crown – with the legs and wings removed to leave just the breast – or a boneless joint. Both are easy to carve, which is handy during that 'get everything to the table' moment just before you eat.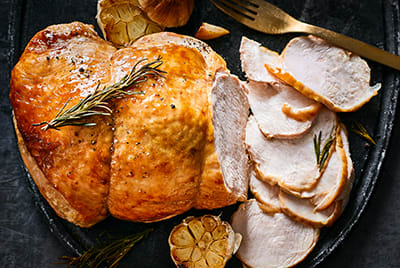 Prepared turkeys
The added extras on our prepared birds are designed to make Christmas cooking easier. Choose a turkey topped with crispy bacon, or one with sage and onion or pork and cranberry stuffing (all our stuffing is gluten-free, too). Or swerve tradition and try our pastry-wrapped turkey Wellington.
Why our turkeys are the best
Responsibly sourced

Every one is traceable back to farms specially selected by us, so you can rest assured you're getting top quality

Expertly prepared

They're pre-prepared by our skilled butchers and ready to pop in the oven – some even come in a convenient foil tray

Full of flavour

Whether it's a whole free-range organic bird or a breast joint, our turkeys taste delicious, from the tender meat to the crispy skin
Meet our farmers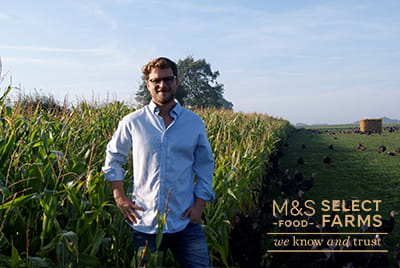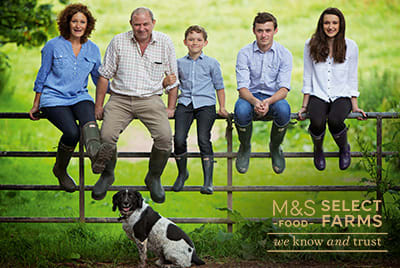 Fancy something different?